CodeRed EMS Billing Director
All the same capabilities as the "CodeRed Administrator" where data from all field units is brought together to produce powerful
administrative reports. All this is seamlessly available to your Billing Partner when you decide to set the call as billable.
Complete Control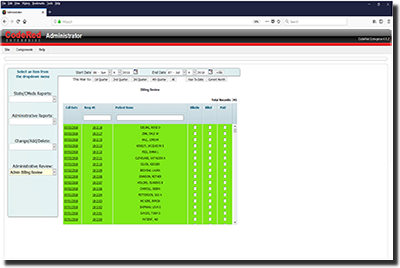 You have complete control over which Patient Care Reports, as well as when those ePCRs are available
to your Billing Partner. You can choose to set Patient Care Reports as billable one at a time or an entire group of reports with just one click.
You have the flexibility to decide when your reports are instantly in the hands of your Billing Partner.
Key Benefits
The excel-like Billing Review allows you to monitor the status of your billable reports in real-time. You can see when they were billed
or if payment has been received. There's no need to wait for statements to determine the status of your billable Patient Care Reports,
it's all here for you with the CodeRed Billing Director.